Research

---
Nicola Samori
---
Agnese
Nicola Samori, 2009, IT
"My works are planes of temporal accumulation and push the image towards its dissolution. My attention is focused on the last moments of a work when a form of exhausted, at-the-limit beauty is impressed in it. I like taking the image to a breaking point, putting its form into danger."

Nicola Samori's dark, Baroque-inspired oil paintings are skillful reproductions of classical portraits and still lifes on canvas, wood, or copper, purposefully destroyed to negate classical representation and question painting itself. His process entails "skinning" his painted figures with a palette knife or diluent, layering another image on top, and repeating the process until images fuse and signs of erasure and scratching dominate the reworked surface. Samori explains that exposing the inside of the paint by removing layers of "skin" with a scalpel reveals "a freshness and an intensity unknown in the outer tones."
Apollon Musagète
---
Apollon Musagète
Florentine Holzinger, 2017, Berlin, DE
With five muses and the god Apollo, Florentina Holzinger examines attributions of the feminine. What does the perfect woman* want and what does the audience want from her? Apollon Musagète combines fin de siècle freak show with live art of the 1960s to a spectacle of physical virtuosity. The starting point for the piece is Balanchine's 1928 ballet quartet of the same name, which sought to reinvent traditions at the time to the music of Igor Stravinsky. With an aesthetic tightrope walk between occult gym, cyborg bullfight and neoclassical ballet, Holzinger offers a new perspective on choreography and bridges the gap between high art and entertainment. A juxtaposition of fiction and reality, innocence and depravity with an all-female cast.

While You Are Sleeping
---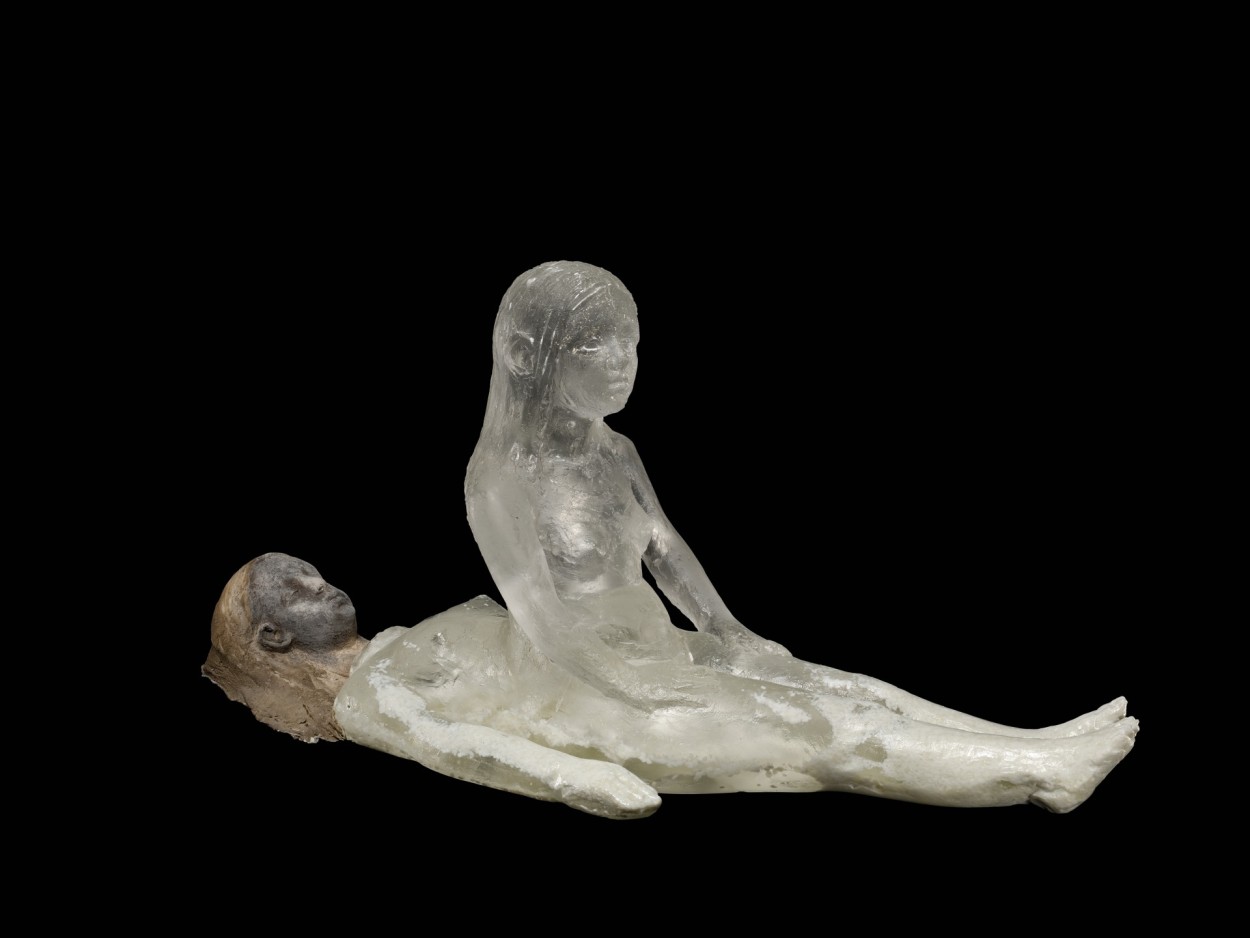 While You Are Sleeping
Christina Bothwell, 2007, Heller Gallery, New York, US
Colorless and white glass; cast; pit-fired raku ceramic. Sculpture is of a reclining woman who has a "spirit" figure rising from her body. The bodies are made up of white and colorless glass, while the head of the reclining figure is brown and gray ceramic.

The Origin of Sculpture
---
The Origin of Sculpture, Bronze
Marc Quinn, 2012,
Marc Quinn expands the material and conceptual possibilities of sculpture. He emerged in the 1990s as part of the iconoclastic group of Young British Artists and is best known for his unusual, organic media: He's made art from frozen flowers, slides of human DNA, and - in his self-portraits - his own frozen blood. Quinn has also embraced provocative subject matter and made monumental depictions of disabled and transgender subjects. Quinn studied art history at the University of Cambridge and has exhibited in London, New York, Paris, Milan, Seoul, Tokyo, and other cities. His work belongs in the collections of the Tate, the Centre Pompidou, the Stedelijk Museum, the Astrup Fearnley Museum of Modern Art, the Museum of Modern Art, and the Metropolitan Museum of Art.
Carolina del Pilar
---
IIKG 1&2
Drawing on black paper, 100 x 70cm. Graphite, charcoal. Berlin, 2020
Carolina del Pilar, 2020, Berlin, DE
Carolina del Pilar is an artist based in Berlin with Colombian roots. Her great passion is the study of the sciences and their possible application in artistic work. Her intention is to create works, which challenge the viewer to engage with the work, in terms of space, material and perception, in a dialogue between the viewer and the material..

The art reflects an interest in traditional techniques, symbolism and materials. Through research and experimentation Carolina del Pilar is able to connect and find a language with the material, making it a primary and conceptual part of the work.

She draws in large formats (up to seven metres) with different types of chalk, charcoal and some of its derivatives. These works are the result of a performative overdrawing. This process of physical engagement with the materials leaves visible and audible traces on the paper and the soundtrack. In this way, pulsating macro and microcosms are created in the same image, a game of perception.
Nicola Hicks
---
Nicola Hicks,
Born 1950 London, UK is an English sculptor, known for her works made using
straw
and
plaster
.
Hicks's practice adeptly combines discipline and skill to create sculptural works with both charming and menacing qualities. The study of anatomy and drawing is essential to her work. Although not concerned with mimetic representation her achievement is founded on a unique ability to capture the physicality and psychology of the animal and human figures she creates. Working primarily with plaster, straw and huge sheets of brown paper on which she works up her dynamic charcoal drawings, many of her sculptures have subsequently been cast in bronze, often with such subtlety that every fragile detail of plaster and straw is reproduced.

Kiki Smith
---
Kiki Smith
Born 1954 in Nuremberg is a German-American artist known primarily for her work as a sculptor and printmaker.
"The body is our common denominator and the stage for our pleasure and our suffering. I want to express through it who we are, how we live and die."
Daphne without Apollo
---
Exhibit: Daphne without Apollo
Maria Lucia and Ingo Klöcker, 2022, Opelvillen, DE

Daphne without Apollo. Metamorphoses from Richter to Lassnig from the Klöcker Collection can be seen in the Opelvillen. From antiquity to the present day, Ovid has inspired artists with his Metamorphoses, his legends about the transformation of human beings, animals and nature. With a wide variety of examples from a wide range of artists, the show illuminates the interpretive possibilities of transformations in the present.
The exhibition will feature works from the Klöcker Collection that depict transitions from one living being or object to another. For 30 years, Maria Lucia and Ingo Klöcker, a married couple from Bad Homburg, have been collecting art with a personal focus: representations of women. Works by female artists became as much a part of their collection as portraits of women by male colleagues. In the meantime, they have been able to assemble a wide variety of paintings, drawings, graphics and sculptures from the post-war period to the present, which show surprising positions and striking transformations.
N°314
---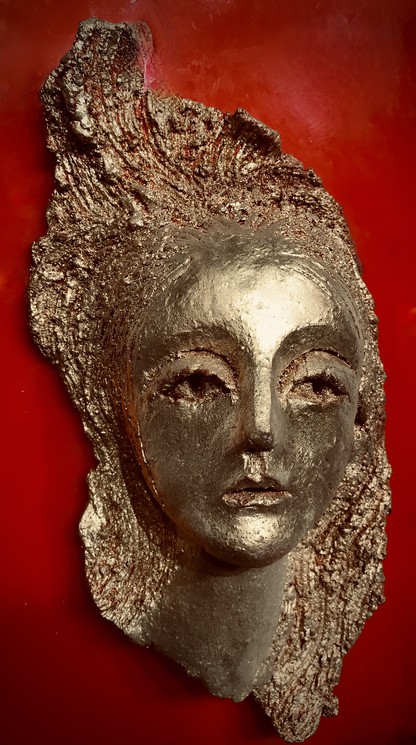 N°314
Georges Saulterre, Circa 1990, France
Bas-relief sculpture in terracotta and gold leaf, 29 x 18 x 0.3 cm
Daphne & Apollo
---
The Greek god Apollo insulted Eros, the god of love, by mocking him as a bad shot. In revenge, Eros shot a golden love arrow at Apollo and a leaden one at the nymph Daphne. The golden arrow caused Apollo to fall in undying love with Daphne. The nymph, however, fled from him, since the leaden arrow had caused exactly the opposite in her. Exhausted by the distress, Daphne asked her father, the river god Peneios, to change her shape, so desired by Apollo. Her wish was granted and she was transformed, before Apollo's eyes, into a laurel tree.
Hermaphrodite
---
Hermaphrodite
Uffizii Galleries, Florence, IT

The Sleeping Hermaphroditus is a Roman sculpture from the 2nd century AD after a Hellenistic original.
In the body of Hermaphroditus, the male of father Hermes and the female of mother Aphrodite coexist harmoniously. Indeed, its dual nature expresses conciliation beyond opposites. The young and sinuous body is stretched out on a feline skin that the sculptor skilfully manages to reproduce in detail.
Praised by Michelangelo himself, it is undoubtedly one of the most sensual works of antiquity. Ovid in his Metamorphoses tells about the transformation of this extraordinary being.
In history, hermaphrodites were revered as superior creatures endowed with both sexes, celebrated as divinities beyond any gender conflicts.
Machines for Reproducing Sculpture
---
The idea of delegating image production to machines can be traced back to two main developments: the creation of drawing tools for multiplying portraits, like the f. ex. 'physionotrace,' and to the conception of machines for reproducing sculpture, both of which were invented around 1800.

With the invention of photography, modern reproduction techniques reached their peak. In 1842, the art historian Franz Kugler pronounced the "daguerreotype" and the "Collas' Reducing Machine" as "machine works" that brought an "unprecedented spread of the sense of art" and "pleasure in artistic representation. The number of new reproductive technologies that appeared during early industrialization affected the traditional working methods of mechanical-minded sculptors. Increasingautomatism, seriality, and labor division, modified sculptural practices in relation to industrial production processes and their advantages and usefulness for the arts
.